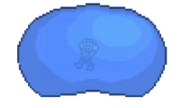 The King Slime is the weakest boss. It has many weaknesses and few strengths so it should be killed easily. Here are the weaknesses and strengths.
Strengths: Is a boss, drops slimes to attack you, jumps high.
Weaknesses: Has low health(for a boss), is slow, very stationary.
How to beat: Spawn it, hit it with a gold broadsword at least, run out of the way when it jumps, kill the slimes.